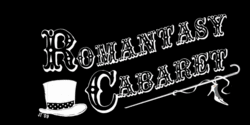 Romantasy Cabaret, a variety cabaret show with an added carnival and big top vibe. After debuting in 2007, Romantasy Cabaret has been entertaining audiences ever since.
The show features a cast of 20-30 local performers delighting audiences with a 3 hour show.
Performers include (but certainly not limited to) comedic skits by Tom Tuerff and Sharon D'Love, Burlesque by the lovely ladies of VaVaVoom, daring feats by Tricia Moore and sideshow acts from Mother Fakir.
Romantasy Cabaret hosts 4-5 shows per year. You will also see cast members performing in other local shows. Check our Facebook page for where we will be next! http://www.facebook.com/RomantasyCabaret