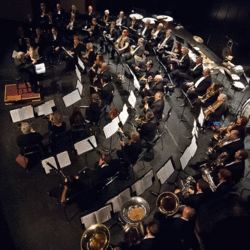 Since 1962 the TRI-COUNTY SYMPHONIC BAND has been part of the cultural life of Southeastern Massachusetts. Professional and fine amateur musicians including talented students from Bristol, Plymouth and Barnstable counties come together to perform classical, semi-classical and contemporary music. Guest soloists and groups are drawn from the best musical institutions. The primary aim of the organization has been to make live performances of quality concert band repertoire available in the community and to give musicians a chance to share their love for the art of making music.
The TRI-COUNTY MUSIC ASSOCIATION, Inc., supports the Tri-County Symphonic Band in presenting high quality musical performances. A secondary aim is to encourage our young people to pursue careers in music education or as instrumentalists by providing them an opportunity to perform and by awarding scholarships. The Tri-County Music Association (TCMA) administers the John R. Pandolfi Scholarship Fund offering scholarships for college music majors and summer study grants for high school students. Over the years, more than 100 students have received such awards for college study. For the past seven years the Association was also able to offer summer music study grants to deserving high school students (grades 9-12). The Association awards $12,000 to young musicians each year.
The Tri-County Music Association, Inc. is a 501C3 not-for-profit organization.