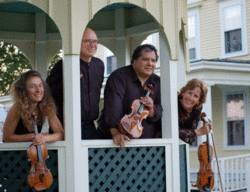 Violinists Lydia Forbes and Ferdinand "Dino" Liva; Violist KIrsten Monke; and cellist Myles Jordan. The DSQ was formed in Philadelphia in 1991 and came to Maine in 1995 on a Rural Residency Grant from the NEA and Chamber Music America.
Down East Magazine Readers' Choice 2018: Best Performing Artist in Maine.
2016 Maine Artist Fellowship Award
Down East Readers' Poll Best of 2014: Best Musical Group in Maine.