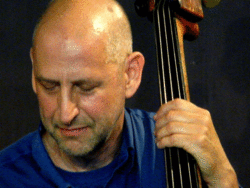 Jon Dreyer is a Boston-area bassist. He performs regularly with jazz pianist Harvey Diamond, one of Lennie Tristano's last protégés, and with pianist/saxophonist/bandleader/composer James Merenda, both as a member of his band TickleJuice and also in more mainstream jazz settings. He has also performed with Adam Janjigian, Doug Johnson, Yoko Miwa, Hankus Netsky, Alan Rowe, Stanley Sagov, Frank Wilkins, Ken Field, Grace Kelly, Roy Nathanson, Dominique Eade, George Garzone, Jason Palmer, Phil Grenadier, Mike Connors, Gillian DeLear, Dave Fox, Scott Goulding, Joe Hunt, Steve Langone, Miki Matsuki, Austin McMahon, and most of the rest of the Boston jazz community.
Mostly self-taught on bass, he has studied with Richard Davis, Cameron Brown, Marcus McLaurine, Harvey Diamond, and Ran Blake.
He is also a mostly classical cellist. He has studied cello with Glenn Garlick, Ervin Klinkon and Ben Levinson, and as well as a master class with János Starker. He was a member of the Boston Philharmonic and the Fairfax Symphony and has performed with the Masterworks Chorale, the Kennedy Center Opera House Orchestra and the National Gallery Orchestra.
Please visit http://music.jondreyer.com for more information, contact info and performance schedule.