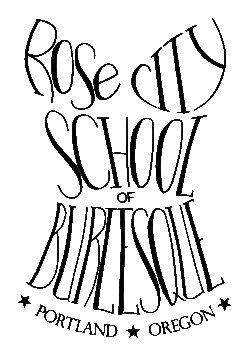 Portland's First & Foremost School for Burlesque
Who do you see taking your classes?
The Rose City School of Burlesque is open to anyone interested in learning more about art form of burlesque: we hold no discrimination against any age, size, color, height, creed, orientation or gender and welcome anyone who is willing to find within themselves a love of their body and a desire to express it on stage while embracing basic tenet of striptease: Strip for others as you would have them strip for you.
What types of classes do you offer?
We offer an intro to performance series, Burlesque 101, which is a ten week class session cover burlesque basics. In addition, there are regular workshop series, including Intro to Burlesque, Basic Burlesque Choreography and Stage Kittening; as well as hosting learning opportunities with traveling performers, including Bettina May, Foxy Tann, Paco Fish and Amber Ray.
What kinds of things do your students learn?
Our Burlesque 101 session offers basic instruction in the history of burlesque, creation of a persona, burlesque hair and makeup, costuming, bump and grind dance movement, as well as a graduation recital... but what we really try to instill initially is a love and respect for one's body that can then be carried to the stage if the individual feels the spark of creativity that performing can provide. Initially we aren't trying to be an institution that graduates burlesque performers, but rather use the art of burlesque to help students gain body confidence, get over stage fright and learn to be creative in a supportive, dance-adjacent atmosphere that also happens to include glitter, rhinestones and tassels.