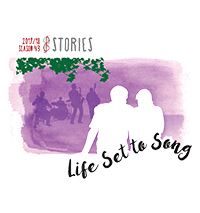 The Angeles Chorale is a 100-voice, auditioned, professional-level, volunteer choir based in Los Angeles, CA. For more than 40 years we've brought inspiring choral music experiences to our Los Angeles community.
Our mission is to engage, enrich and inspire our audiences, singers, and our diverse community by performing great choral music with a passionate commitment to excellence, and to increase access to and appreciation of choral music in greater Los Angeles.
PACK YOUR BAGS & JOIN THE ANGELES CHORALE FOR A MUSICAL JOURNEY ACROSS OUR GREAT NATION! From Southern California holiday tunes to the traditional bluegrass melodies of our heartland and the vibrant sounds of the Big Apple. Our 42nd season brings to life the diverse musical tapestry of America with works both familiar and new. Join Artistic Director John Sutton as he leads the chorale -- and you -- on a delightful tour of the musical capitals of America.