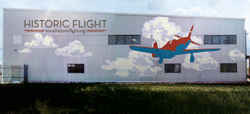 Historic Flight at Kilo-7 offers a collection of the most important aircraft produced between 1927 and 1957%u2014all restored and airborne again.
Our mission goes beyond serving as trustees of an era. We want you to experience the roar of our F8F %u201CWampus Cat%u201D taking off. Watch engineers at work restoring the aircraft to flying condition. Share the rush of viewing international treasures from all angles.
Whether you%u2019re an experienced aviator, a student of history, or a newcomer to our world, we want to spark and fuel your passion%u2014both for aviation and for epiphanies born from hard labor. Our heroes did not leap from the bathtub shrieking, %u201CEureka!%u201D They scrawled a sketch on a piece of paper. Got interested in an impossible challenge. And then they dove into the work. The reward? Innovation that astonished both them and us, and that continues to change our world.