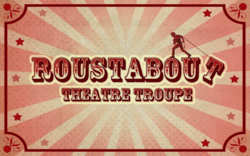 Sometimes you want to run away with the circus. Sometimes, you build the circus yourself. Gather 'round the campfire and I'll tell you a tale of two Joes.
The Roustabout Theatre Troupe was founded by Joseph Zettelmaier and Joey Albright; the result of several years of collaboration as Playwright and Director for many World Premiere productions.
Roustabouts mission is to create vibrant, diverse productions that resonate with residents of a variety of cities in the area. It is our desire to build an organization where artists of many varieties (not solely theatrical artists) can create and share their works. We are also fiercely dedicated to creating opportunities for students (both college and high school) to hone their crafts and build a resume. Finally, we are passionate about bringing art to as many cities as possible throughout the region, blurring the lines between towns and encouraging audiences to explore their neighboring cities and all they have to offer.
Why the name Roustabout? Well, a roustabout is "a circus worker who assembles and dismantles tents, cares for the grounds, and handles animals and equipment." We were drawn to the idea of performance that moves; that travels; and to us, the roustabout also symbolizes working with your hands, rolling up your sleeves and doing the hard work - not for the glory of the spotlight, but because that's what needs to get done.
So, we've loaded up the wagons, tied down the tents, and fired up the engines. The calliope is secured, the performers have buckled their belts, and we're ready to take to the road.
We're the Roustabout Theatre Troupe, and we'll meet you where you are!