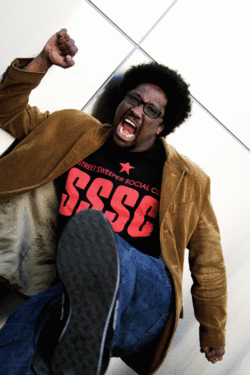 W. KAMAU BELL IS THE SF WEEKLY'S BEST COMEDIAN 2008.
JUST LIKE SKINNY JEANS, superhero movies, and frozen yogurt, racism continues to make a comeback. In 2007, The W. Kamau Bell Curve: Ending Racism in About An Hour opened big and came out swinging. Back in 2007, it was Celebrity Racism that was all the rage. (Imus, Kramer, Dog The Bounty Hunter, etc...) But since then things have changed. They have managed to get better... AND WORSE.
While we are amazingly at the dawn of America's first black president, Racism, in response, has redoubled --- no re-quadrupled --- its efforts. (See Barack The Magic Negro, Forbes Magazine's Best Places to Raise a Family, the media blaming black people for the passage of Prop 8, and most of the comments on Kamau's YouTube page). Well, W. Kamau Bell is here to make (non)sense of all of it. And because Racism is always attacking in new ways and from new angles, Kamau attacks back by adding new material at every performance.
The W. Kamau Bell Curve is inspired by the work of several different comedians: the passionate, agenda driven comedy of Bill Hicks, the free flowing, talking shows of Henry Rollins, the soul baring honesty of Margaret Cho's "I'm The One That I Want," the take no prisoners and leave no stone unturned style of Dave Chappelle, and the ripped from the headlines relevance of "The Daily Show with Jon Stewart." The Curve is a seamless mix of stand-up comedy, video and audio clips, and solo theatrical performance. And as always...
BRING A FRIEND OF A DIFFERENT RACE & GET IN 2FOR1!
This past year, The W. Kamau Bell Curve played to sold out houses at The Shelton Theater in San Francisco, as well as the Jewish Community Center in Berkeley, Pro Arts in Oakland, and most recently The Climate Theater in San Francisco. And now it's back by popular demand and critical acclaim...
FROM THE PRESS
Dont Miss: The W. Kamau Bell Curve!
--- Mary Eisenhart, The San Francisco Chronicle
"W. Kamau Bell plays against type and comes with not only the insights you wish you had spewed first but also the wit."
--- Kimberly Chun, The SF Bay Guardian
"Smart, stylish, and very much in the mold of politically outspoken comedians like Dave Chappelle and Margaret Cho, Bell's pissed off about recent celebrity racism... Bell manages to make jokes out of the whole situation, while remaining completely furious."
--- Hiya Swanhuyser, The SF Weekly
By making no subject off limits, keeping no discrimination too taboo, and leaving no room for self-denial, Kamau's Bell Curve is not only a powerful comedic performance but an outlet for a necessary dialogue.
--- Lauren Mahler, Flavorpill.com
"Do we have a new S.F. performance king? Apparently so."
--- The SF Weekly