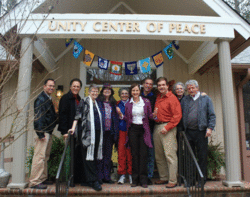 Unity Center of Peace is an inclusive, empowering, positive path for spiritual living.
We are a loving, nurturing, and ever evolving Truth community expressing I AM consciousness. Our vision is to be spiritual peacemakers who help transform our world.
We are a warm, loving, and inclusive spiritual community. Our principles are based on the teachings of Jesus, other spiritual masters, and our own inner wisdom. We embody and honor the Universal Truths found in all religions and spiritual traditions. In Unity, we nurture and cultivate an experience of the Divine presence in our daily lives. And in so doing, we see it reflected in our world as love, joy, peace, wellbeing and abundance. This is living from the inside out!