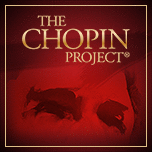 The Chopin Project aims to connect a global community focused on the work of Fryderyk Chopin. It continues as an evolving force determined to make Chopin's music more accessible to the casual listener and to music students and scholars alike worldwide through a variety of web, social media, digital and printed resources, live concerts and student outreach opportunities.
Since its genesis in 2007, where it began as an ambitious live concert and symposium series, Chopin Project [chopinproject.com] has become a comprehensive interactive user-focused enterprise. It fulfilled a unique role in the worldwide Chopin bicentennial celebration in 2010.
Chopin Project continues its dedication to promoting the discovery, research, inspiration and pure enjoyment of Chopin's complete works, those of his contemporaries, those who influenced his work, and those whose work he influenced.
The Chopin Project Facebook community is open to all (please join more than 10,000 who like us) and can be found at www.facebook.com/chopinproject. Those preferring Twitter can follow @chopinproject.
We look forward to your comments and participation in our ongoing effort to keep Chopin's music as vital as ever.
Note: The Chopin Project is a registered trademark of Chopin Project, LLC