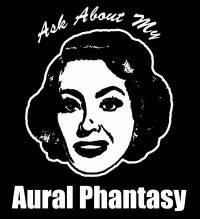 CAPTURED AURAL PHANTASY THEATER combines the art, drama and comedy of a vintage radio program with the live entertainment of a vaudeville variety show. Shows are built around performances of vintage pop culture gems, usually giving old comic books a modern voice, along with live sound fx, music and projected art. Shows also include short acts, sultry singing, prizes, special guests and live music.
Captured Aural Phantasy Theater - or CAPT, to our close friends - has been performing all over Los Angeles for the past few years. However, we go back a little farther. Started by childhood friends Ben Ziola and Wes Bailey in Omaha, Nebraska, CAPT spent most of its formative years in Chicago, Illinois, playing at such legendary venues as Mille's Orchid Show and the Hideout. Now, you can enjoy the same show in sunny LA!
"The gang at Captured Aural Phantasy has crafted something uniquely wonderful."
-LA Weekly