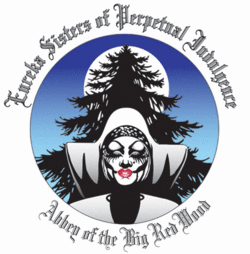 We are an order of 21st century nuns with no affiliation to any organized religion, whose mission is to spread joy and goodwill through charitable acts and fundraising, with consideration of the special needs of Humboldt county.
Our Abbey is part of a world wide order of Sisters who's shared mission is to promote the message of "universal joy" and to "expiate stigmatic guilt".
The Sisters have devoted ourselves to community service, ministry and outreach to those on the edges, and to promoting human rights, respect for diversity and spiritual enlightenment.
We belive all people have a right to express their unique joy and beauty and we use humor and irreverent wit to expose the forces of bigotry, complacency and guilt that chain the human spirit.