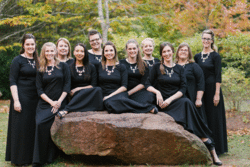 Named after the singing femmes fatales of Greek mythology, Sirens is an award-winning womens choral ensemble based out of Charlottetown, Prince Edward Island. Under the artistic direction of Kelsea McLean, the group has developed a strong following of supporters and has been lauded for its pure tone quality, sensitive musicality and tight ensemble. Sirens produces two full-length concert programs each season while maintaining a busy schedule performing at a variety of concerts, fundraisers, events and workshops.
A recipient of several awards at the local and provincial music festivals in 2015, Sirens earned the Richard W. Cooke award at the FCMF National Music Festival, placing first in the Choral Ensemble Class. That same year, Sirens also received a nomination for Music PEIs award for Achievement in Classical or Jazz.
In past seasons, Sirens performed alongside the Prince Edward Island Symphony Orchestra, the Halifax Camerata Singers, The Atlantic String Machine, singer-songwriter Meaghan Blanchard, soprano Tracy Cantin, and pianist Robert Kortgaard. Sirens has been featured at the renowned Indian River Festival (2015, 2016, 2018) and the UPEI Department of Music Recital Series (2015). In July 2018, Sirens was featured in performance at Podium (St. Johns, NL), Canadas national choral conference and festival.
This season, Sirens is pleased to collaborate with the MiKmaq Heritage Actors, the Prince Edward Island Symphony Orchestra, and the Aeolian Singers.
Committed to fostering the development of choral music in Prince Edward Island, Sirens initiated Harmonia Girls Choir in fall of 2015 to nurture the next generation of PEIs female choral singers. In its fourth season, Harmonia is made-up of approximately 25 young singers.