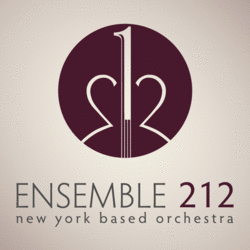 Ensemble 212 (two-one-two) is making a tremendous impact in New York's classical music scene. Founded by the dynamic conductor and musical entrepreneur Yoon Jae Lee, this collective of talented musicians is redefining the role of the 21st century chamber orchestra. Three vital programs comprise of Ensemble 212's mission: the Young Artist Competition series, educational concerts devoted entirely to new music titled "New Music for Young Audiences", and "Cultural Convergences", a new series of performances merging interdisciplinary and multicultural art forms.
Ensemble 212 has been at the forefront of new music performing numerous New York and world premieres of major works by composers Mohammed Fairouz, Huang Ruo, Daniel Felsenfeld, Ke-Chia Chen, Texu Kim & Nina C. Young. Last season, Ensemble 212 featured the music of distinguished African-American composer Jeffrey Mumford. The annual Young Artist Competition series showcases outstanding young instrumentalists under the age of 18, providing them opportunities to perform as a soloist with a professional orchestra.
In 2015, Ensemble 212 launched its New Music for Young Audiences series. By presenting elements and techniques used in new music in a fun and inquisitive manner, young audiences can better appreciate and understand today's composers. Highlights of the Cultural Convergences include collaborations with the Michael Mao Dance company combining Huang Ruo's music and Yoon Jae Lee's chamber version of Der Abschied from Mahler's Das Lied von der Erde with modern dance. Other innovations Ensemble 212 has introduced to enhance the concert experience is the use of live program notes projected on a large screen. These real-time notes offer audiences insight into a deeper understanding of the music.
Since its inception, Ensemble 212 has performed over sixty-six concerts featuring an eclectic mix of repertoire from the Baroque era to the 21st century in chamber music, ensemble, and orchestra concerts. Highlights from previous seasons include performances at diverse venues such as Merkin Concert Hall, Miller Theatre, New York City Center, John Zorn's The Stone, collaborations with clarinetist David Krakauer, Nicholas Kitchen & Yeesun Kim of the Borromeo String Quartet on Fairouz's Double Concerto commissioned by Ensemble 212, Daniel Phillips of the Orion String Quartet, a 10th anniversary memorial concert titled "Remembering 9/11: Memorial, Reflection, Assurance."
Ensemble 212 has been featured on 105.9 FM WQXR%u2019s Q2 Music program and on BBC News Magazine. In recognition for its contribution to excellence in New York's diverse cultural scene, the orchestra was acknowledged by 93.9 FM WNYC & WQXR%u2019s Salute The Arts *STAR* Initiative in 2009 and 2013, and was awarded funding from the New York City Department of Cultural Affairs during the 2016-17 season.