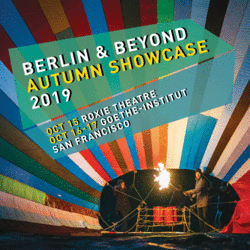 Welcome to the Advance Online Box Office of the Berlin & Beyond Film Festival's Berlin & Beyond Autumn Showcase.
October 15th at San Francisco's historic Roxie Theatre and October 16-17 at the Goethe-Institut in Downtown SF.
This site only sells tickets for Goethe screenings (Oct. 16-17) and member-priced tickets for Roxie screenings (Oct. 15).
For general public tickets for the Roxie screenings (Oct. 15), please click on these respective titles:
Gundermann
|
25 km/h
Due to small-capacity venues, we encourage you to get your tickets in advance, as most screenings are expected to sell out.
BerlinBeyond.com
|
Facebook
|
Twitter
|
Instagram
#BerlinBeyond24