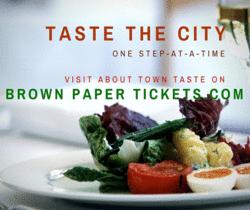 About Town Taste tours take you on a delicious path through the historic neighborhoods that highlight the best cuisine of the area.
Also included in our tours are sightseeing of local attractions like the downtown skyline, street art, murals and historic architecture.
There are four different food tours to choose from, all of which are geared towards foodies and travelers alike.
All of our adventures feature locally owned eateries with tastings while we explore historic buildings from inside not just the sidewalk. About Town Taste exclusive interior access brings the city's heritage alive.
Owners of the restaurants and shops are often available to engage one-on-one with the tours, giving it a home town personal feel. Our tours are more memorable than just meeting a friend for lunch or going to a movie; it's a special event.
So, explore our city the best way possible, on foot with About Town Taste!
Hand crafted artisan gift certificates are always available. Email the office to order yours.