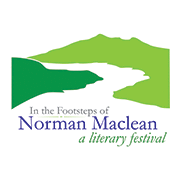 Due to the Rice Ridge Fire near Seeley Lake, the Norman Maclean Festival is re-locating to Missoula for the Sept. 8 & 9 events.
Friday afternoon and all day Saturday the festival will be at the Fellowship Hall of the Reverend Maclean's original church: First Presbyterian Church at 235 S. Fifth St. W., Missoula. The Friday night Gala Dinner on the Blackfoot remains at the Blackfoot home of the Big Blackfoot Riverkeeper. Fire and smoke conditions have caused the cancellation of the Blackfoot Conservation & the Fishing Hole Tour on Friday, but the Blackfoot Geology and Norman's Neighborhood remain and are available. The Wine Tasting on Saturday is now at 6 pm at the event space at Le Petit Outre Bakery in Missoula. The Double Arrow Resort remains open, but lodging cancellations will be refunded if you choose to re-book in Missoula. Wildfire is a fact of life in our beautiful mountains, and we can adjust!
::::::::::::::::::::::::
This year is the 25th Anniversary of the release of the movie, A River Runs Through It. To celebrate, the In the Footsteps of Norman Maclean Festival presents three days of stories from the iconic Blackfoot River and Blackfoot Valley featuring many of the creative team that brought A River Runs Through It to the Big Screen, including lead actor, Tom Skerritt.
TICKETS CAN ALSO BE PURCHASED ON-SITE at the Festival Registration Booth.
Alpine Artisans is the producer of the 2017 In the Footsteps of Norman Maclean Festival.