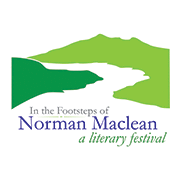 This year, the In the Footsteps of Norman Maclean Festival will explore the work of outstanding Western authors who have 'followed in the footsteps' of Norman Maclean, featuring our theme: Writing the West: The Way Forward.
Saturday's Program: At MCT Theater, Missoula
Our theme, Writing the West: A Way Forward, is reflected in the entire body of work of our keynote speaker, Michael Punke. Other Saturday speakers who will address these challenges within the context of their work include Rick Bass, Debra Magpie Earling, Peter Stark, Dan O'Brien, Judy Blunt, and Richard Manning. Saturday evening features our Gala Dinner with an address by Annick Smith who asks, Is This Still the Last Best Place?
Friday's Program: In Seeley Lake & Missoula
Friday's tours include Norman Maclean's neighborhood in Seeley Lake and Norman's Favorite Fishing Holes on the Blackfoot River. John Maclean will keynote an event Friday at the Museum of Forest Service History featuring the re-printing of Elers Koch's book 40 Years a Forester: 1903-1943 with Eler's Grandson, Peter Koch.
Sunday's Program: At MCT Theater, Missoula
Both the morning and afternoon program explore the challenges you face to bring an outstanding Western novel to the Big Screen. Sunday morning, the Salish and Blackfeet production team behind Debra Magpie Earling's award-winning novel, Perma Red, will share their process of development and production of this upcoming Perma Red TV series. The afternoon program will tell the story behind the screenwriting challenges of The Revenant, featuring author Michael Punke, the screenwriter Mark Smith and a screening of The Revenant.