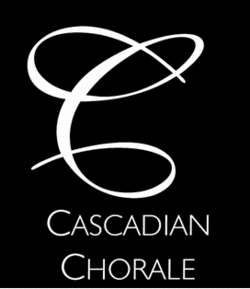 The Cascadian Chorale has been an active chorus in the Puget Sound Region since 1964. During that time the Chorale has performed a wide range of literature from the stunning Vespers of 1610 by Claudio Monteverdi to contemporary masterworks by Northwest composers Bern Herbolsheimer, David White, Troy Peters, and Gregory Youtz. The mission of the Chorale is to develop the classical arts on the Eastside through the study, practice, and performance of fine choral music. Our concerts offer diverse selections, from masterworks and well-known choral repertoire to original works by contemporary composers.
Concerts often feature collaborations with local orchestras, college, and student ensembles. These have included the Bellevue Philharmonic, the Columbia Choirs, Seattle Choral Company, outstanding high school choirs and the Bellevue Community College Choirs. Concerts regularly feature the finest of Northwest artists in performance with the Chorale. Recent guest artists include Cascadian composer in residence Bern Herbolsheimer, baritone Michael Drumheller, mezzo-soprano Kathryn Weld, organist David White, baritone Brian Box, conductor Dr. James Savage, and soprano Christina Siemens.
The Chorale is a non-profit organization with 501(c)(3) status and has received grants from the Washington State and the King County arts commissions.