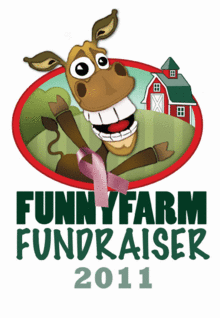 How would you describe Funny Farm? Well, it's a VERY funny place with very FUNNY animals and even FUNNIER people. But, more importantly, the Funny Farm is actually the fundraising arm of River Of Ribbons.
River of Ribbons will be a non-profit organization that houses a center for people and their families that have been hit by cancer. They will use it for the following and more:
*health
*healing
*education
*respite
Funny Farm was founded by two incredible women - Kay Winchell and Anne Tarantino. The beauty of Funny Farm and River of Ribbons is that it's dedicated to ALL patients with ALL cancers.
Like so many of us, the founders found their friends and families struck hard by cancer. Being at a time of life where middle-age begins the 'Loss Zone' of life. You literally lose people you care about as more and more either succumb to, or fight one of various forms of cancer.
As they watched more and more people they cared about face cancer, reoccurring questions needed answering! All of those struck by this merciless disease basically asked the same thing, 'now what?' First it was a bit of a shock, yet OK. 'I'm diagnosed, they tell me I have to have this treatment, that treatment and we're starting this now!'
Yet they'd ask themselves, 'And then what? Do I have to have THIS treatment?' Once the treatments were done, they may be told not to come back for 6 months.
'Then what?'
'What should I expect?'
'What should I eat?'
'Do I need to maintain a different weight?'
With Kay and Anne concerned about their loved ones and these questions, they turned to a women that is an oncologist and, ironically a breast cancer survivor. A dialogue began that included nutrition, causes, effects, what to potentially expect etc.
The conversation led to talks about what a center could offer. In our world, the doctor says, 'do chemo, we'll do radiation' and that's that. But this raises the question, 'Are there other types of treatments?' What about a holistic eastern approach? Why not educate people on both the side of traditional and non-traditional treatment so they can choose? We would like to offer that, not as experts, but as information givers.
Nutrition is huge. Most of the food we buy as a 20 year shelf life. We inject hormones in cows and other animals we eat to help them grow bigger faster to produce. Well aside from us humans getting bigger faster, we are also ingesting the hormones that the cows get.
We want to offer a place where we can do things like teach people to grow their own healthier food. Or give them a place to have support groups that help those fighting cancer as well as those who are survivors. Sometimes just to have that support with other people is huge. That is the goal.
Currently, we are working with a non-profit organization that Is part of the Mayo Clinic in Rochester, MN called Join the Journey. Here in Minnesota people that are undergoing treatment (both inpatient and outpatient) travel a long way. With gas prices they way they are and with people having to take short term disability (if they are lucky enough to have it take a huge pay cut.) we donate gas cards to Join the Journey so they in turn can give them to their patients that need them. It's one less thing to worry about. It may seem like a small thing, but as prices rise, it gets to be a larger issue.
Join us at the funny farm to celebrate the lives of those lost and the live of those who have fought and survived.
Click on the event image below to get your ticket!