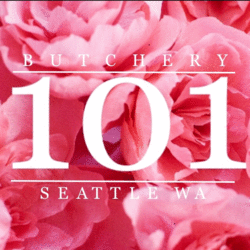 SCROLL DOWN FOR CLASS AND EVENT LINKS
Butcher. Chef. Mouthpiece for local, sustainable farming, foods and restaurants. Butchery classes, catering, private dinners, butchery and charcuterie services.
Check out this Seattle Times article on these classes:
https://www.seattletimes.com/life/food-drink/how-to-butcher-a-whole-pig/
FAQ and Basic Info for Classes:
Payments for classes are non-refundable. If you find yourself unable to attend, you may transfer the ticket to someone else. However we are unable to refund fees and all payments are final.
How much meat will I take home?
The quantity of meat per DELUXE TICKET ranges between 10-15 lbs, depending on the final weight of the animal and class attendance.
Can I choose what cuts I get to take home?
No. During the class we'll cover the best uses for each cut; you'll also take home a recipe booklet to help you make something delicious and nourishing out of anything you may come across. Practice using the entire animal by learning how to cook and eat any part!
Is there a hands-on portion?
No, there will be little to no hands-on practice for the students. In my experience repetition is the surest route to gaining hand skills. Unfortunately we wont have enough time or product for everyone to get any significant practice. This does, however, free you up to absorb, analyze what you see and hear, and focus on interacting with me as your instructor, and your fellow students. These classes tend to assemble a good mix of butchery, cooking and meat knowledge, and its a treat to get to know everybody!
If you are genuinely interested in getting your hands on some meat, talk to me about it during or after class. Ill try to connect you with some places that could use a few hands from time to time.
Please don't hesitate to email me with any other questions or concerns. Thanks very much!