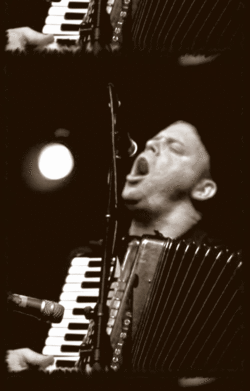 My roll within Brown Paper Tickets:
I'm an outreach and sales representative for Brown Paper Tickets, with a specific focus on the burlesque community. I am also a contributor to
Burlesque Beat
, an internationally recognized burlesque blog.
My passion for the underground arts community made me an early champion of Brown Paper Tickets. I started using BPT through the recommendation of friends in Circus Contraption in 2003. My love for the company and experience eventually led to me working for the company.
During my four years here I've been allowed to use my talents in a variety of aspects and my work with the burlesque community has made BPT the preferred ticketing company for the American glitter tribe. It's been exciting to watch burlesque grow and evolve as an art form and I'm honored to help facilitate that growth.
Experience:
For the last 15 years, I have produced a variety of cabaret-style events through my band
The Bad Things
and its production arm Silent City Productions. I've also run the record label Silent City Records since 2001 with releases by my former band A Midnite Choir and The Bad Things.
Before that, in the early 90's, I was involved in the DIY punk scene booking all-ages shows for bands like Citizen Fish, TchKung!, Naked Aggression, The Gr'ups and more in my hometown of Bellingham, Washington.
What I do when I'm not working:
My free time is spent with my amazing wife Renae and three year old son Desi, enjoying our South Seattle home or exploring our gorgeous city. I also fill my time with all kinds of artistic pursuits: playing music, blogging about the arts, writing songs, booking shows, promoting various events, composing and generally filling my time as creatively as I can.
Here's a sampling of my music. A song I wrote entitled "Just Four Weeks"