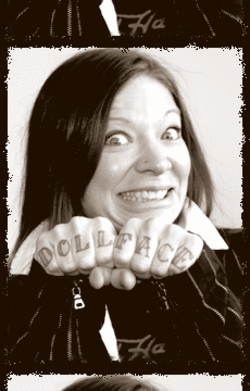 Role at Brown Paper Tickets:
Client Service Representative
Why I love Brown Paper Tickets:
Brown Paper Tickets encourages and embraces creativity and individuality in it's staff. We are all serious about what we do, but we don't take ourselves too seriously. We have some serious fun here in the office! We also have fabulous benefits.
Best part of the job:
All my hilarious, amazing and fabulous co-workers and management staff.
How I can help you:
Need to do Season Passes? Wanna talk derby? Need to learn how to use all the tools in your account? Need a creative way to use your BPT account to satisfy your event management needs? I'm yer lady! I will always do my best to help you learn how to use our site's tools to their fullest potential. Call me! We'll tawk, have cawffee.
A little bit about moi:
I am short in stature, but what I lack in height I make up for in volume. I have a warped and twisted sense of humor and constantly find myself laughing at totally inapropriate times. I like to push buttons, question the answers, test my limits and defy the odds. I curse more than a sailor. I'm heavily tattooed and have no fashion sense. I'm a bit of a coffee snob. I'm not a picky eater, but rather a particular eater. I hate being told no. I'll almost always take a dare. I'm always up for a challenge. I speak the truth and don't sugar coat things. I have a less than healthy disdain for authority. I am an agressive driver and very prone to fits of road rage. I fight like I'm six foot four. But other than that I am really nice and sweet girl. No, really I am. Ask my mother.
When I'm not working:
I'm either skating or doing committee work for my derby league. Tilted Thunder Rail Birds. When I have time and the weather is good, I love to hike, rock climb and camp.
If I could have any super power:
I would be able to conjure chocolate out of thin air! mmmmmmmm.....choc-o-late!!!
When I rule the world:
I will add a culinary category to the Nobel Peace prize to acknowledge great achievements in food; such as chocolate cake and hot wings.
My Favorite Childhood Toy:
My imagination and an unending supply of energy
My secret talent:
I can carry on an entire conversation by only using movie quotes.
Fun fact about my hometown:
I was born and raised in Pittsburgh. While there are many fun and cool facts about my hometown, this one amused me the most: Apparently Bingo was invented in Pittsburgh. Hugh J. Ward first came up with the concept of bingo in Pittsburgh and began running the game at carnivals in the early 1920s, taking it nationwide in 1924. He secured a copyright on the game and wrote a book of Bingo rules in 1933.