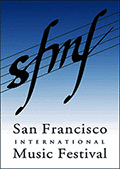 5TH MILTON & PEGGY SALKIND INTERNATIONAL PIANO DUO FESTIVAL
Sponsored by the San Francisco International Music Festival, The Milton and Peggy Salkind International Piano Duo Festival is the United States' first and foremost international music festival solely dedicated to the art of the piano duo. The 5th Salkind International Piano Duo Festival (August 7-10, 2014), will showcase performances by distinguished American and international artists at the San Francisco Conservatory of Music with a Grand Finale concert at the Palace of Fine Arts Theatre.
The 2014 Salkind Festival invites you to embark on "A Baltic Voyage" in a showcase of musical treasures from the countries that border the Baltic Sea. Our goal is to highlight the rich musical heritage and the hidden treasures of seldom heard composers of Russia, Latvia, Lithuania, Estonia, Sweden, Finland, Denmark, Germany and Poland. The Salkind Festival is also proud to debut three commissioned works.
Featured artists: The Bergmann Piano Duo (Canada & Germany); The AR-RA Piano Duo (Latvia & Armenia); Duo Pianistico di Firenze (Italy); Duo Turgeon (Canada); The ZOFO Duet (Japan & Switzerland); and The Angelo Duo (Australia & USA). Guest artists from the Bay Area include pianists from the Palo Alto Two Piano Club; the 20 Fingers Club from the North Bay and dancers from Smuin Ballet, San Francisco Opera Ballet, Marin Dance Theatre and choreographer, Tiit Helimets from San Francisco Ballet.
As a world-class destination with a unique blend of cultures, the San Francisco Bay Area offers an ideal setting for an international piano duo festival in the United States - the only concert series of its kind in America. Don't miss this rare opportunity to experience a voyage of discovery as we explore the musical heritage of the Baltic region.
Visit www.sfmf.org for complete Salkind Festival schedule