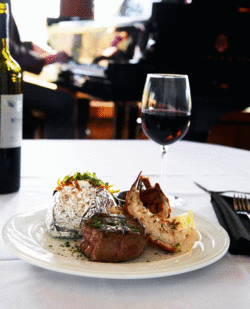 Heralding a 50's-60's throwback vibe, this is becoming a favorite spot to kick-back and enjoy classic American eats from a scratch kitchen alongside classic cocktails and locally and internationally-renowned music.
The Dunsmore Room at Crooners is one of the Twin Cities' only spots to have a listening experience in an intimate setting over dinner and drinks. Boasting a 9-foot Concert & Artist Steinway grand piano and the backdrop of the lovely Moore Lake, The Dunsmore Room is quickly becoming one of the best music rooms... anywhere. The Dunsmore Room features a diverse menu of the best in both national and local performers.
The Lounge is our 240 capacity main stage which features the best in local music in a relaxed, yet classy environment.