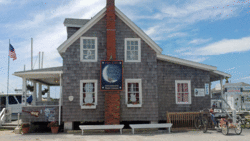 Introducing Marcy and Lou's COYOTE MUSIC DEN - on the edge of the harbor in a magical setting in historic, Community Square.
William David Williams house (ca. 1900)
FOR TICKETS - in "search events" (upper right box) type in Coyote Plus One or Coyote In Concert. Also find our events at the bottom of this page.
Tuesdays COYOTE PLUS ONE "well-crafted spontaneity with a different guest each week" runs May 21 - September 24, 2019.
Fridays COYOTE "In Concert" with a special guest (or not) from April 19 - October 25, 2019.
Visit www.coyotemusic.net for Live Web Broadcast, Videos, Pix, Audio, Bios, Calendar, Shop
Info 252-928-6874 music
Voice 252-256-2081
Download FREE Coyote Music Den smart phone app!