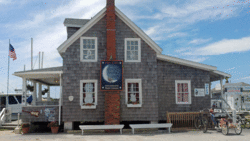 Introducing Marcy and Lou's COYOTE MUSIC DEN - on the edge of the harbor in a magical setting in historic, Community Square.
William David Williams house (ca. 1900)
FOR TICKETS - arrow down to select event or type in at the upper right.
Last Concert of MARTIN GARRISH & FRIENDS "Playing Your Ocracoke Memories" is Friday, August 31st. This show has been cancelled.
Tuesdays COYOTE PLUS ONE "well-crafted spontaneity with a different guest each week"
Wednesday COYOTE "An evening with Marcy and Lou" Just we two ...
Starting Sept 7th - November 21st: Coyote are taking over Fridays "In Concert" together, along with surprises, special guests, digital instrumentation, additional instruments ...
Visit www.coyotemusic.net for Live Web Broadcast, Videos, Pix, Audio, Bios, Calendar, Shop
Javier's Taxi Service
(252) 588-0088
Info 252-928-6874 music
Voice 252-256-2081
Download FREE Coyote Music Den smart phone app!