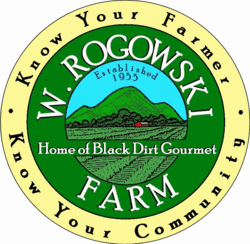 The W. Rogowski Farm is a second generation, family operated farm located in the magnificent black-dirt region of Pine Island in the town of Warwick in Orange County NY. Old-fashioned family values and a progressive attitude gives the farm an atmosphere of warmth and welcome.
Our Produce is Certified Naturally Grown (CNG) - a grassroots alternative to the USDA's national organic program. Designed for small farmers distributing through local channels - farmers markets, roadside stands, local restaurants and community supported agriculture programs - the farms that make up your local landscape!
We grow many unique and custom varieties of produce for our CSA members, high end restaurants and Farmers Market customers. Known for our expertise in low-income, ethnic markets we continually strive to uphold the high levels of quality and diversity our customers have come to expect from us.