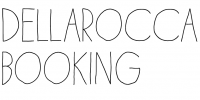 We are a small independently run booking and promotions company in the Capital District of New York. We put on shows mainly at the lovely Valentine's Music Hall, and sometimes other places too.
Dellarocca Booking started in early 2010 by booking basement shows in college apartments with a few shows on the University at Albany campus and at Valentine's under the name "WCDB Presents" when Nicole Dellarocca was WCDB's Events Director (2010-2011) and General Manager (2011-2012). The Dellarocca Booking website was launched in May 2012, a few weeks before graduation. For a complete list of shows from 2010 to the Present, visit our Past Shows Archive.
Dellarocca Booking is currently run by Nicole Dellarocca and Andrew White, out of the little Center Square apartment that they share. Nicole does all of the booking stuff, Andrew does all of the poster and design stuff.
For booking inquires please email: info@dellaroccabooking.com