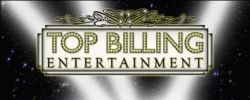 We are a new non-profit performing arts group serving the San Gabriel Valley.
Born out of the Keener Music Studio, Top Billing Entertainment's goal is to bring professional level instruction and performance opportunities to performers of all ages and abilities at low cost.
Our vision is that every performer be treated as if they had "top billing."