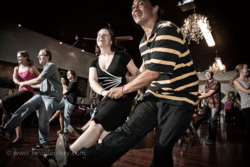 The Firehouse Swing Dance offers the most popular weekly swing dances, swing dance lessons and private swing dance instruction for young singles and couples in San Diego, CA. We have weekly classes in East Coast, Lindy Hop, Charleston and Balboa Swing Dancing.
Beg and Int Swing classes take place every Wed. night from 7:30-9p, followed by Open Social Swing Dancing from 9p-12a. We've just added a new Beg class on Sun. night from 5:30-7p at Hale Holistic, 1250 J St, 92101. Beginners, now you can learn to swing dance TWO nights a week!
Classes: $15/drop-in, $12/students-military (includes dance)
Dance Only: $8/drop-in, $6/stud-mil
4-wk class package: $50/general, $40/stud-mil (includes dance)
90-day Beginner's Special: 12 wks of 90-min classes for only $99.
More info on our website: http://SwingInSanDiego.com