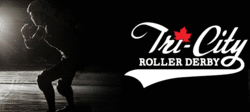 We are a skater-run, flat-track roller derby league based out of Waterloo Region, Ontario. As of December, 2010 we are also a member of the Womens Flat Track Derby Association.
For more than five years now, we have been taking the track by storm, facing off against teams from across Canada and the U.S. As our new season approaches, we are gearing up for an even bigger and better year with more bouts, more skaters and more kick ass derby action!
Roller Derby is one of the fastest growing sports worldwide, combining a unique mix of athletics, creativity and comradery. There are established leagues in nearly every major city in Canada including London, Hamilton, Edmonton, Vancouver, Toronto and Montreal.