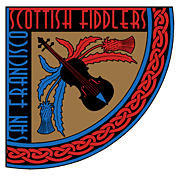 Welcome!
The San Francisco Scottish Fiddlers was formed in 1986 by Alasdair Fraser and a group of friends to play and explore traditional Scottish fiddle music. The group has grown over the years to a family of more than 300 musicians of all ages, abilities, and backgrounds. We are drawn together by our strong sense of community and delight in sharing the music we love. In addition to our monthly meeting--held mostly in members' living rooms around the San Francisco Bay Area--we organize workshops, hold autumn and winter fiddling retreats, play at regional Scottish Highland Games, and perform in small groups for concerts, benefits, and celebrations of all kinds. Since 1987, we have presented annual Spring Concerts in the Bay Area, and travelled farther afield for tours including Northern California in 1995, Alaska in 1999, and the Pacific Northwest in 2005.
We draw our repertoire from the rich and enduring Scottish musical tradition. We learn contemporary tunes as well as those that have been passed down; and the majority of our music comes from the Highlands and the Western Isles, the northeast of Scotland, and Shetland. Many tunes also come to us from the great Scottish fiddling tradition that flourishes in Cape Breton Island off the northeast coast of Canada. We explore other fiddling traditions joyfully, and find community in the music of Ireland, Scandinavia, Quebec, Old Time American, Galicia, and Spain--and we find find welcome, basically, wherever we look.
With Alasdair Fraser as our director, musicians both amateur and professional happily blend their individual musical journeys with that of this group--a combined expression of creativity, sensitivity and joy in sharing the music. In performance, we can look something like an orchestra; but we are a band of individuals who love to create music together, and defy orchestral shackles. Our goal is to create a musical community much greater than the sum of its parts. Spontaneity is a key element. We delight in breaking down the barriers between performers and audience. We invite you, our audience, to feel involved with the music and express yourselves fearlessly!
If you would like to learn more about San Francisco Scottish Fiddlers, please talk to players after the concert. You can also find information about upcoming performances and membership by visiting our website.
San Francisco Scottish Fiddlers is a part of the nonprofit organization Scottish Fiddlers of California that also sponsors the Scottish Fiddlers of Los Angeles, and the annual summer music camps Valley of the Moon Scottish Fiddling School and Alasdair Fraser's Sierra Fiddle Camp.