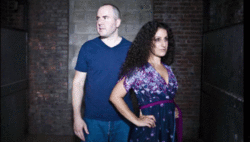 Keith and The Girl (KATG) is a fast-paced comedy podcast that records 5 days a week in New York City. The show takes the form of a daily conversation about relationships, comedy, current events, and more. Keith and The Girl began in March 2005, making it one of the longest-running podcasts in existence.
In 2011, KATG VIP was launched. Membership gives access to over 2,000 back episodes and exclusive KATG content.
Averaging one million downloads a month, KATG has welcomed guests including Hannibal Buress, Eugene Mirman, Saturday Night Live's Sasheer Zamata, the late Greg Giraldo, Gilbert Gottfried, Doug Stanhope and Howard Stern veteran Jackie "The Joke Man" Martling.
KATG has been featured in The New York Times, Cosmopolitan, The New York Observer and on the cover of The Village Voice. Keith and Chemda were anointed "The Pioneers of Podcasting" by The Wall Street Journal, while Time Out New York praised Chemda as the "Queen of Podcasting." WTF host Marc Maron even credits KATG with helping launch his own now-revered podcast: "You guys got me started to begin with. You were the original podcasting people."