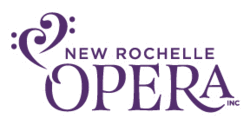 Begun with only a few props and bits of scenery and a nucleus of young, enthusiastic singers, the New Rochelle Opera has been thrilling audiences with imaginative and sensitive stagings of full opera productions since its inception.
Critics and audiences alike have praised the brilliance and professionalism of the performances, while wondering at the incredibly low ticket prices.
Our audiences include many people who have never before been to an opera performance, and many singers who started with the company have gone on to greater opportunities, including the Metropolitan Opera in New York, and other equally fine opera companies throughout the U.S. and Europe.
At a time when several other companies in the county have folded, a reviewer for the Gannett Westchester-Rockland Newspapers stated: New Rochelle Opera is still going strong!