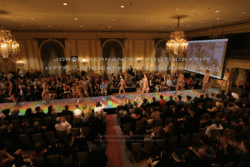 Eduardo was born in Venezuela to parents from Greece and Syria and for the past 15 years he has traveled all over North and South America creating imaginative sporting, movie, theatrical, concert, fundraising, private and corporate events.
He's arranged countless receptions, press conferences, art exhibits, fashion shows, red carpet movie premieres, and green events as well. Events of note include: A Masquerade Fashion Show, Bellevue Art Museum, 2008 and Seattle Art Museum 2009; Zeus of the World (featuring the international model competition), Hollywood; Bonza Bash Black Tie New Years Eve, Seattle Aquarium; and Bonza Bash Black Tie Masquerade Ball, W Hotel Seattle.
Eduardo has worked and collaborated with: Donald Trump, Elton John, Raquel Welch, Ryan Seacrest, Nicole Kidman, Michael Douglas, Gene Hickman, Ron Howard, Tom Hanks, Demi Moore, Kevin Spacey, Billy Bush, Nancy o'Dell, Jaclyn Smith, Macaulay Culkin, Andy Garcia, Celia Cruz, Paulina Rubio, Ricky Martin, Enrique Iglesias, and Cirque du Soleil.
Eduardo's fundraising activities have raised over 15 million dollars for various charitable organizations across the United States. www.eduardokhawam.com