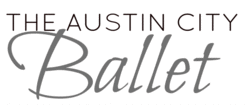 The Austin City Ballet is a non-profit tax-exempt organization made up of dancers ages 8 - 18 specializing in performances for children, by children.
ACB has been operating since 1991, and as a non-profit entity since May of 1999.
Our Mission Statement:
To bring theatrical dance to the greater Austin community in an entertaining and educational arena.
To train and educate dancers in all aspects of theatrical performance, from technical preparation, lighting design, set design, costuming, and choreography.
To provide scholarships for aspiring performers to pursue training opportunities.