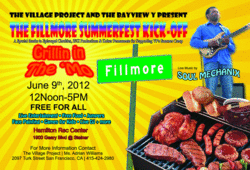 The Village Project began in June 2006 as an after school academic program, with an all volunteer run. The DCYF sponsored a free summer lunch program. After identifying further needs of the community, the program has evolved to include an after school academic program. The project provides public and co-operative housing residents with positive activities and events for the "Village Kids" and their families. Organizing has focused on community safety issues with family oriented activities.
The project's activities have been recognized by:
Public Housing Residents, MONS, MOCJ, SFPD,
DCYF, S.F. Post, S.F. Examiner, S.F. Chronicle, Western Edition, Sentinel, WAFRC, State Assembly, State Senate, CBO's and Harlem West Magazine
The project has received awards from:
The San Francisco Board of Supervisors
The San Francisco Police Department
The Mayors Office of Neighborhood Services
The Department of Children Youth & Families
State Assemblyman Mark Leno
State Senator Carol Migden
SF Public Library
Adrian Williams, the Project's Founder and
Director has received awards including:
An "Unsung Hero" award from the
San Francisco Public Library.
Proclamations from Mayor Gavin Newsom
That October 5th, 2006 was "Adrian Williams Day"
in San Francisco
That December 26th will be declared the first day of Kwanzaa
That March 9th, 2008 be declared
Mardi Gras San Francisco Style