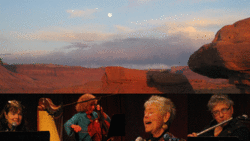 Shepherd Moon's music is border-crossing. It mixes the transcendental with the earthy, classical with Latin and Celtic, traditional with original, sound with poetry.
We are musical vagabonds from the Colorado Rockies to the Sangre de Cristos,and our music reaches out to spiritual and earthly adventurers of all generations.
Featuring Becky Reardon, singer-songwriter, Julie Hawley, Harp and percussion, Joan Zucker, Cello and Pat Ramsay OConnell, Winds.