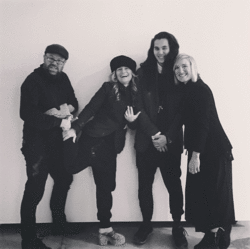 Think Make Tanks reflects processwhat distinguishes an artists process is to think through making. The material an artist works with is their vocabulary.
Collectivefour distinct individuals bouncing ideas and knowledge of materials off each other. Four approaches.
The goal of the dinners is to bring people through an experience of material, light and sound around a theme. To enjoy food, company and an open space to talk about ideas.We invite people to experience the process of artists conversing at a table. To see how ideas are exchanged and developed into physical form.
The Tank is an incubator of ideas as they gestate into material form, art objects, art concepts, art installations. We begin in conversation, bouncing back and forth freely between people. Those that join the dinner enter the process of sharing ideas and bouncing ideas.