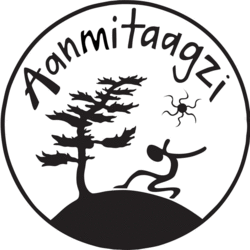 Aanmitaagzi is an Indigenous multi-disciplinary artist-run company based in Nipissing First Nation. Linked to provincial, national and international networks, Aanmitaagzi is committed to fostering a vibrant arts community through community-engaged projects that promote well-being, strengthen relationships with the land, and incorporate intergenerational approaches and methodologies. Aanmitaagzi combines art-making, education, professional development & social activism through contemporary and customary arts, nurturing historic Indigenous arts practices and exploring how these practices can be carried forward in a meaningful contemporary context.
About Material Witness
Material Witness, a co-production by Aanmitaagzi and Spiderwoman Theatre, is inspired by Spiderwoman Theater's 1976 production of Women in Violence. Irreverent, sometimes surprising, the show is rooted in powerful storytelling, with a twist of humour and an uplifting musical beat. It is a multigenerational exploration of violence, healing and renewal in the lives of Indigenous women in urban and rural communities on Turtle Island.
An ancient woman rises out of the earth. She conjures the space where three generations of women tell their stories, she is their guide as they find their way in their world. We witness their secrets as they navigate a path through stories of rape, abuse and anger. Material Witness is the journey of their healing.
Directed by Muriel Miguel and co-created and performed by Gloria Miguel, Penny Couchie, Cherish Violet Blood, Donna Couteau and Josephine Henu Tarrant, (taking the role of original cast member, Ange Loft), "Material Witness can be poetic. At other times, it's rowdy and playful, displaying an enormous sense of energy, strength and goodwill. Yet, its subject is dead serious". -Anita Gates New York Times
"...communal, community-minded theater, story-based exposition, rollicking physical humor, reminiscent of vaudeville and slapstick comedy with a strong musical drive." -Eva Yaa Asantewaa InfiniteBody