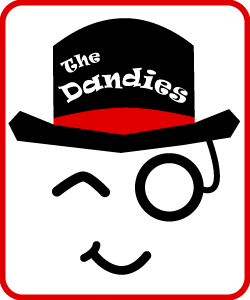 (Toronto, ON, Canada) Toronto based improv comedy troupe, The Dandies, were formed on Feb. 17, 2012 by Andie Leathley and Dale Wells. The Dandies use of long-form narrative to focus on the romantic comedy of life. Their interests are passionately geeky and nerdy whether it is scifi, fantasy, comics or gaming.
The comedy duo produces high-concept thematic improv shows like Holodeck Follies, a monthly Star Trek-inspired variety comedy show, as well as the annual fundraiser version, Close Shave.
In addition to being welcome guest performers at comedy venues in Toronto, they have joined the local comedy festival circuit, participating in the Big City Improv Festival (2012, 2013), Comedy Bar's Festival of New Formats (2013), and Black Swan's Ladder Competition (2011).
In June 2014, The Dandies were nominated for Now Toronto's 2014 Reader%u2019s Choice award for Best Improv Troupe.
Mandate: As part of Toronto's artistic landscape, we will enrich the community through light-hearted musical and narrative improvisation.
Mission: We will produce shows that foster the development of new performers, especially from diverse communities and artistic formats.
Vision: That everyone (audience member and performer) exits the performance space feeling included, more optimistic, and fulfilled.
The Dandies - Silly Improvisation, Taken Seriously.