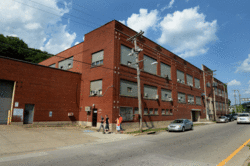 In Charleston, WV at 1007 Bigley Ave, there resides a building. A building that once housed the Purity-Maid Bread Factory. For decades, this building produced sights and smells many residents of Charleston still remember vividly as their family members produced fresh-baked bread and distributed it throughout the region.
Now the building, simply known as "The Bakery", houses another type of artistic creation, The Charleston Music & Arts Collective!
Founded by Charleston musician and frontman of Metal Blade Recording artists Byzantine, Chris Ojeda, The Charleston Music & Arts Collective is an open-source, all-ages, non-profit organization with the sole purpose of establishing a central hub for the creative minds of the Kanawha Valley region of West Virginia.
Our goal will be to create a space where musicians, thespians and artists of ALL kinds can come together and display their talents in an environment run SOLELY by the artists themselves.
Along side Ojeda, the collective will be aided and maintained by Board Members Dennis Strom (Technical Director of Limelight Theatre Co.), Wesley Eary (owner of Hole in the Wall Studios) and Musician/Booking Agent Jason Robinson.
The Charleston Music & Arts Collective has secured rental space in The Bakery and will begin renovations on a new Multi-Use Event Area . This area will be a perfect location for a multitude of creative endeavors such as, but not limited to:
Live Musical Performances
Theatre Performances
Art Galleries
Wine Tastings
Yoga or Dance Classes
Musical Instruction
Book Readings
Movie Screenings
We feel this central Hub will be VITAL in giving the Charleston, WV artistic community a place we can call home.
If there is one thing an artisan is great at... it is taking NOTHING and turning it into SOMETHING WONDERFUL!