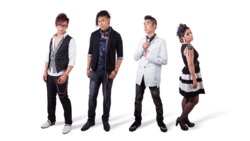 Ten years ago, we were a bunch of kids who formed a band to play covers of our favorite Japanese Rock and anime theme songs. We quickly discovered that playing covers just wasn%u2019t enough and strived to create something entirely new. Influenced by a wide breadth of musical styles and genres, we%u2019re a four member American J-Rock band that combines Japanese and English lyrics to create unique music that bridges the gap between American and Japanese music while representing the Rock music we fell in love with so many years ago.
Now celebrating our 10th anniversary, akai SKY is advancing American J-Rock music by continuing to merge influences from both countries and molding it into a new and exciting Rock-fueled music genre.
Come join the American J-Rock team!