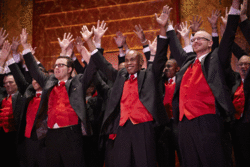 An award winning chorus. A cultural movement. An arts phenomenon. A family. The Gateway Men's Chorus means many things to many people, but one thing remains true: GMC is remarkable because of the men who come together to share in the music and the camaraderie!
Your support helps us present programs with positive messages and support diversity in our community. With your help, together we become more than each of us alone.
Gateway Men's Chorus has been performing for the St. Louis Metropolitan area since 1988. Starting with 22 singers at our inaugural performance, the Chorus has grown to approximately 80 singing members. Gateway Men's Chorus has become one of the most successful male choral arts organizations both in musical repertoire and longevity. We are a 501(c)(3) non-profit organization governed by a 12 member Board of Directors. The Arts and Education Council of Greater St. Louis accepted the Chorus as a member in 1994. Since our inception, the Chorus has benefited financially from the Missouri Arts Council, the Regional Arts Commission, the Arts and Education Council, the William A. Kerr Foundation and the Gateway Foundation as well as corporate funding from American Airlines, Anheuser-Busch, the Enterprise Rent-A-Car Foundation and General American Insurance. GMC has stayed true to our mission of producing beautiful male choral music and of presenting a positive image of gay men to the entire St. Louis community.
GMC has also produced four CDs over the years for our patrons to enjoy:
Monuments (1998)
A Saint Louis Holiday (2003)
Love Changes Everything (2010)
I Want to Fly (2011)
The Chorus is celebrating our 27th anniversary in the 2013-2014 season. With our amazing singing membership, staff, and board members we build capacity, hone our vision, educate, and celebrate diversity.