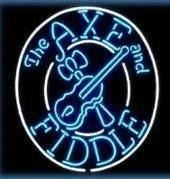 In November of 2016, friends of the Axe & Fiddle Pub celebrated its 10th anniversary as the premier live music and entertainment venue and anchor of a revitalized Main Street in downtown Cottage Grove, Oregon.
Located in the beautifully restored Burkholder Woods Building at Seventh and Main, the Axe & Fiddle stands out as the nightlife hub of a vibrant small town, and the pub has earned a reputation for quality offerings including local craft beers, craft cocktails from a full bar and an eclectic dinner menu that features locally sourced, organic seasonal ingredients and nightly specials.
Live music and entertainment draw a crowd just about every night of the week, with performers from down the street, across the country or even throughout the globe gracing the Axe & Fiddle stage. The pub also offers an impressive calendar of special events including a monthly Science Pub gathering, poetry night, open mic, comedy and trivia night, and a welcoming community atmosphere means that even first-time visitors often become a part of the action!
But the Axe (or the Fiddle, as its also known by locals) prides itself on more than just entertainment. Our head chef brings 15 years cooking experience and a culinary arts degree to a kitchen that uses local ingredients whenever possible, often featuring produce from nearby farms during the summer months. The recent addition of Sunday brunch has further expanded the pubs delicious array of menu items.
In the classic public house tradition, the Axe & Fiddle is one of the focal points of its community. Visit just about any time and youre sure to see locals chatting about current events and sharing local knowledge with out-of-towners who are drawn to the pubs relaxed social atmosphere.