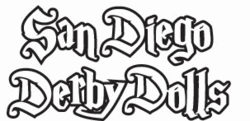 About the San Diego Derby Dolls:
The San Diego Derby Dolls are the nation's first hybrid league of both banked track (the inclined surface) and flat track (on the ground) roller derby. SDDD (est. 2005), the sister league to the Los Angeles Derby Dolls (est. 2003), was founded upon the attributes of athleticism, integrity and respect. We are proud to be America's Finest Roller Derby and pledge to represent San Diego to the fullest degree in America's most exciting sport for women!
Upcoming 2012 Season Bouts:
January 28: SD Swarm vs LA Varsity Brawlers
February 18: SD Wildfires
March 24: SD Diego Rollers vs LA Fight Crew
April 7: SD Hard Corps vs Salt City Shakers & Juvenile Dollinquents Double Header
May 12: SD Wildfires vs LA Ri-ettes
September 15: SD Hard Corps vs Rocketeers
October 13: SD Swarm vs AZ Derby Dames
November 10: SD Diego Rollers vs Reno Roller Girls
December 8: Swarm vs Diego Rollers Championship Bout
DEL MAR FAIRGROUNDS - WYLAND HALL
---These are all ages events---
---Full bar 21 and up with ID---
Doors open at 6:00pm.
Bout begins at 7:00pm.
Bleacher Seating: $20
Gen Admission-Standing Room: $15