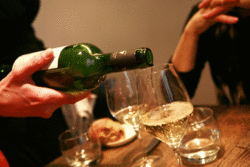 www.springparis.blogspot.com
Select your date from the calendar below:
Grand Afternoon Tasting
60 Euros per person
Wedneday, Thursday, and Friday at 16h00
6 wines, 1.5 hours
A guided tasting of 6 artisanal wines led by a Spring sommelier. We'll cover how to taste wines, how to read a French wine label and understand the appellation system, discuss the difference between organic, natural, and biodynamic wines, and answer your questions. Of course we'll have something to nibble on while you taste.
Lunch Reservations
We're testing Lunch reservations online - the first day of each month, we'll let out a limited number of seats for each lunch service. Reservations are Noah's Ark Style, meaning that one reservation is for two people.
Private Tastings
Available Wed-Sat at 7pm for groups up to 10 people at the restaurant, or 40 people at the boutique.
email josh@springparis for more info
Wine tastings beyond:
check back the first week of month prior to the tasting - so first week of January for tastings in February.