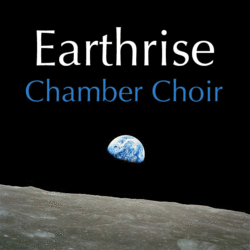 Our Mission Statement
Earthrise Chamber Choir performs secular choral works from the Western choral tradition that elucidate the human experience and celebrate life in all of its beauty and complexity. We believe that great choral music, masterfully performed, can inspire, educate, and rejuvenate the spirit.
Our Vision
*To explore universal themes of the human experience such as love, service, peace, community, freedom of thought, the connectivity of all living things, and respect for the inherent worth and dignity of all
*To perform choral music that challenges the intellect as well as the heart; music that is transformative as well as emotionally satisfying.
*To present concerts that push the envelope of traditional choral music expectations
*To commission new choral works that underscore our values
*To become an influential choral ensemble, both in our community and the broader world of music
Earthrise Chamber Choir is a nonprofit auditioned community choir that is a resident ensemble of Westside Unitarian Universalist Congregation. In addition to the support we receive from Westside UU, Earthrise members pay a small fee to participate and are expected to participate in fundraising projects.