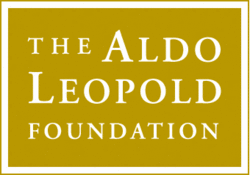 The Aldo Leopold Foundation is a 501(c)3 not-for-profit organization based in Baraboo, Wisconsin. The foundation's mission is to inspire an ethical relationship between people and land through the legacy of Aldo Leopold. Leopold regarded a land ethic as a product of social evolution. "Nothing so important as an ethic is ever 'written,'" he explained. It evolves "in the minds of a thinking community."
A joint production of the Aldo Leopold Foundation, the US Forest Service, and the Center for Humans and Nature, Green Fire explores the life and legacy of famed conservationist Aldo Leopold, and the many ways his land ethic idea is living on in the work of people and organizations all over the country today. The film shares highlights from Leopold's extraordinary career, explaining how it shaped and influenced the modern environmental movement. At the same time it also shows how relevant Leopold's ideas still are in modern society, illuminating current examples of projects working to connect people and land at the local level.
Meet urban school children in Chicago learning about local foods and native plants. Meet ranchers in Arizona and New Mexico that work on maintaining a healthy landscape by working not only on their own properties, but also with neighbors that surround them, sparking a true community conservation effort. Meet animal biologists working to bring threatened and endangered species back to the landscapes where they once thrived, from whooping cranes to Mexican wolves. And learn how Leopold's vision of a community that cares about both people and land provides the link that ties all of these modern conservation stories together.
Visit our website to learn more about Aldo Leopold's life and legacy, the work of the Aldo Leopold Foundation, and watch a trailer for the film.